If you decide to visit or reside in Hawaii, you have to indulge in the local favorite fast food of the Hawaiian islands at least once. Saimin in Hawaii is considered by some to be the national dish of Hawaii, and it can be found almost anywhere and at any time of the day from snack bars, coffee shops, diner style restaurants, resorts, and even McDonald's.
There's a bit of uncertainty around the history of this fast and delicious dish, the Japanese people would consider it a Chinese dish because of the noodles, and the Chinese people would consider it a Japanese dish because of the broth, but it is actually Hawaii's own mixture of a number of different cultural foods. The most notable influences seem to come from Chinese mein, Japanese ramen, and Filipino pancit. The Hawaiian people have definitely adapted and made this dish their own.
Saimin was developed by the various immigrant groups to adapt to the ingredients available on the islands. Basic saimin is often eaten as a snack, while more substantial versions can be made to make it a full meal. The noodles are thin and white and usually a softer texture than that found in ramen. The broth is typically clear and made with a light dashi (or Japanese) stock. Often included are green onions, fish cakes,  ham, or char siu (a sweet spiced roast pork). Just like ramen, other ingredients can also be added depending on the person and on how much they want to get out of the meal. People often add eggs, chicken, shrimp, greens, or bean sprouts.
The biggest comparison of Hawaiian saimin is to Japanese ramen, which also has its own history of mixing cultural dishes when immigrants arrived in Japan from China. Ramen quickly became a popular sensation, spreading through the years and over borders until it is now popular to college students everywhere. Before it became instant, ramen was directed at middle class parents with children as whole nutritious meals. Even traditional ramen has a wide number of variations on how it can be made, but the basics will almost always be the same: noodles, broth, seasonings, and toppings. The noodles are thin and light, while the broth is rich and usually chicken based. The toppings can range from fish, to pork, to dried seaweed, and hard boiled eggs.
Though similar, both saimin and ramen come from distinct cultures, people, and ingredients, but you won't want to miss the various styles of traditional saimin while spending time on the Hawaiian islands.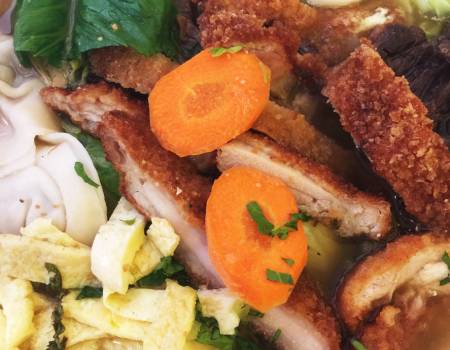 For information on beautiful places to stay while vacationing and the Saimin in Hawaii, visit our vacation rental page or call us at (888) 737-4188 or (808) 726-2878.