When temperatures are dropping and snow begins to fall, keep those dreams of sunshine and beach days alive by planning a winter escape to a tropical paradise. With warm sunny days that remain throughout the winter, the Islands of Hawaii are the perfect antidote to the winter blues. Leave the coats and boots behind in favor of bikinis and board shorts and make your way to the Hawaiian Island of Oahu this winter!
With warm sunny days and cool, pleasant evenings, winter is an ideal time to visit the Hawaiian Islands. Winter also coincides with big surf tournaments, whale watching season, and holiday festivities that are only made better when celebrated island style! Winter is a special time in Hawaii, where cold, gray days are left behind and sunshiny days and warm ocean waters are at the forefront. Make your way to Oahu, Hawaii this winter, and be sure to add some of these sights and activities from our Oahu travel guide to your winter itinerary!
Book Our Winter Ko Olina Rentals Here!
Winter Accommodations in Oahu
Location is key, and if you're escaping to Hawaii this winter, you'll want to be sure and book accommodations that allow for premium beach access. Our Makaha vacation rentals are situated right on the beachfront, so the sights and sounds of the ocean are just steps from your door. Spend long days soaking up the sun from these beachfront accommodations on Oahu, which boast one or two bedrooms and fully equipped kitchens. Our Oahu vacation rentals in the community of Ko Olina are also situated on an exclusive waterfront property, where you'll find four beach lagoons with beautiful crescent-shaped white sand beaches. The calm waters here are ideal for swimming and stand up paddle boarding, and you'll also find additional amenities onsite such as a golf course, shopping, dining, swimming pools, spas, and a marina. With onsite amenities and the option of selecting a condo, beach villa, or private home, Ko Olina is a highly desirable community for a stay on Oahu, whether you're seeking a romantic getaway or a family-friendly destination. From your location in sunny West Oahu, it's easy to visit some of Oahu's top sights without compromising your island vacation with the sights and sounds of the city.  When you're ready to explore, Oahu's best things to see are just a short drive away!
Top Oahu Sights
During winter months, Oahu's North Shore brings big wave surfers from around the world; it is one of the most popular winter activities in Oahu. While surfing beaches such as Waimea Bay, Ehukai Beach (Banzai Pipeline) and Sunset Beach are best left for highly experienced surfers during this season, it is well worth the trip to simply observe from a distance on the shoreline. November through February are the best months to catch big wave surfers in action, though it leaves North Shore beaches largely unsafe for swimming. However, heading to the North Shore is a great opportunity to savor Oahu's beautiful scenery. On the way, stop at the Dole Plantation, where you can lose yourself in a pineapple garden maze, take a plantation garden tour, take a ride on the Pineapple Express, and sample a variety of pineapple products. Once you've reached the North Shore, the rainbow bridge will welcome you to the town of Haleiwa, a small, charming surf town filled with boutiques and quaint eateries. Browse the shops at Haleiwa Town Center and grab a bite to eat at Haleiwa Beach House. If you continue past the famed beaches of Waimea Bay and Sunset Beach, be sure to also stop at Laniakea Beach. Laniakea is the best location on Oahu to spot green see turtles lazing along the sand, giving it the nickname Turtle Beach. Be sure to keep your distance, as these once endangered creatures are protected by law. After getting your fill of turtle sightings, stroll down to the area near the lifeguard stand, which is also known as Chun's Reef. This is another great place to catch big wave surfers in action on a winter day!
No matter which months you travel, there are always plenty of beaches to explore. Winter days have no effect on Hawaii as a top beach destination. In fact, the main difference between a summer and winter beach day in Hawaii is where you'll find the tranquil waters. While winter months bring larger swells to the north and east shores, the south and west shores see calmer seas. That means that if you're in search of the perfect beach for a leisurely swim or glassy waters over which to catch a magnificent sunset, the west coast is the place to be. Consider lazing along the shores of the tranquil Ko Olina lagoons, or heading further up the west coast to catch the sunset from the picturesque Makaha Beach or Yokohama Bay. There are few sights more magical that watching the golden winter sun sink directly into the ocean with the final golden rays of light left glimmering across the water's surface!
If you find yourself needing a break from beach days, consider setting out for a hike along the Makapu'u Point Lighthouse Trail. Located along the southeasternmost tip of the island, this can be a great spot to catch the sunrise if you're ambitious enough to tackle it early. Even if you prefer a more leisurely start to the day, this trail offers stunning views over the ocean. At the culmination of the trail, enjoy sights of the historic red-roofed Makapu'u Lighthouse, built in 1909. Round trip, the trail is just two miles with approximately 500 feet of elevation gain. However, come prepared with plenty of water because much of the journey is exposed to sun and wind. In fact, the final portion of the trail is carved directly into the sea cliff, with just a railing separating you from the panoramic views all around. This trail is particularly great to explore during winter months, as whale spouts can often be spotted offshore along the way.
Are you Looking for a Winter House Rental in Makaha? Click Here!
Things to Do on Oahu
If your getaway to Oahu falls during winter months, this is the perfect opportunity to go whale watching. The whale watching season begins in mid-December and usually lasts through April, when migrating whales make their way back to Alaskan waters. Though it's often possible to spot whale spouts from the shoreline, a boat excursion will get you up close and personal with these sizeable creatures. Most outfitters have equipment to listen to the whales' songs and detect their location, practically guaranteeing a sighting. As an added bonus, pods of dolphins are usually spotted along the way! Ko Olina Ocean Adventures is a good place to start when it comes to booking a highly rated whale watching tour on Oahu.
Aside from whale watching and snorkeling tours, a wide variety of other water winter activities in Oahu are available to add excitement to beach days. Boogie boarding, surfing, kayaking, and stand up paddle boarding are all popular with residents and visitors alike, and the proper gear can be easily obtained. Whether you're an experienced waterman and simply need to rent gear for the day or you're a complete beginner and would prefer to begin your activity of choice with a lesson, water activities can be enjoyed by travelers of all ages and ability levels.
For an adrenaline rush away from the waterfront, consider embarking on one of the many adventure activities that make the most of the island's diverse terrain. From hiking to lush waterfalls to horseback riding along the base of a picturesque mountain, there's so much more to Hawaii than it's beautiful beaches. Parasail over Waikiki, take in hidden sights that can only be spotted from a helicopter tour, zipline through the tropical forest, or ATV along meandering off-road trails. There are so many ways to enjoy the island beyond its coastline!
Must-Try Foods on Oahu
If there's one thing that's always present at gatherings in Hawaii, it's large portions of finger-licking good food. From fresh seafood to Pan-Asian and Native Hawaiian cuisines, there is no shortage of options when it comes to good eats in Hawaii. Be sure to try some of these well-loved dishes on your winter getaway to Oahu!
If you haven't already heard of poke, you'll likely encounter this dish soon after your arrival in the islands. Poke, a dish consisting of diced raw ahi tuna and pronounced poh-keh, is a Hawaii favorite. This Native Hawaiian dish is traditionally prepared with sea salt, seaweed, and limu. However, nowadays you'll find a whole range of options such as spicy tuna and wasabi mayo. At most gatherings you'll find poke used as a side dish, although many restaurants are now serving up poke bowls that turn it into a main meal atop scoops of white rice. It may seem anticlimactic, but some of the best places to try poke are from supermarkets you'll find around the island, such as Foodland. The restaurant Fresh Catch also has several locations around the island and offers over 20 varieties made fresh daily. Grab a few varieties to go and head to the nearest beach to enjoy your poke with a view!
It may go against the natural inclination while in a tropical location, but another must-try dish in Hawaii is a bowl of steaming saimin, Hawaii's favorite way to eat noodles. Along with broth and noodles, you'll typically find ingredients such as char siu, green onions, wonton, Spam, Portuguese sausage, choy sum, kamaboko, and fried eggs in your bowl of saimin. If you can't bring yourself to eat a bowl of steaming soup on a hot Hawaii day, wait until the sun begins to dip toward the horizon and you're reaching for your sweatshirt before heading out to one of Oahu's best saimin restaurants. Palace Saimin and Shige's Saimin Stand are a couple of the top saimin eateries on Oahu, but part of the fun is trying multiple locations and discovering your personal favorite!
You can't end a trip to Oahu without noshing your way through at least one serving of shave ice for dessert. Different from the snow cones you'll find in other locations, shave ice is Hawaii's version of snow, created with thinly shaved ice that results in a much smoother texture. From rainbow-colored flavors to sweeter concoctions that include a scoop of ice cream at the bottom, the choices of shave ice are many. Matsumoto's is a mainstay on the North Shore, serving up shave ice for nearly 70 years. Island Snow is another favorite – be sure to include a scoop of macadamia nut ice cream on the bottom of your flavor of choice!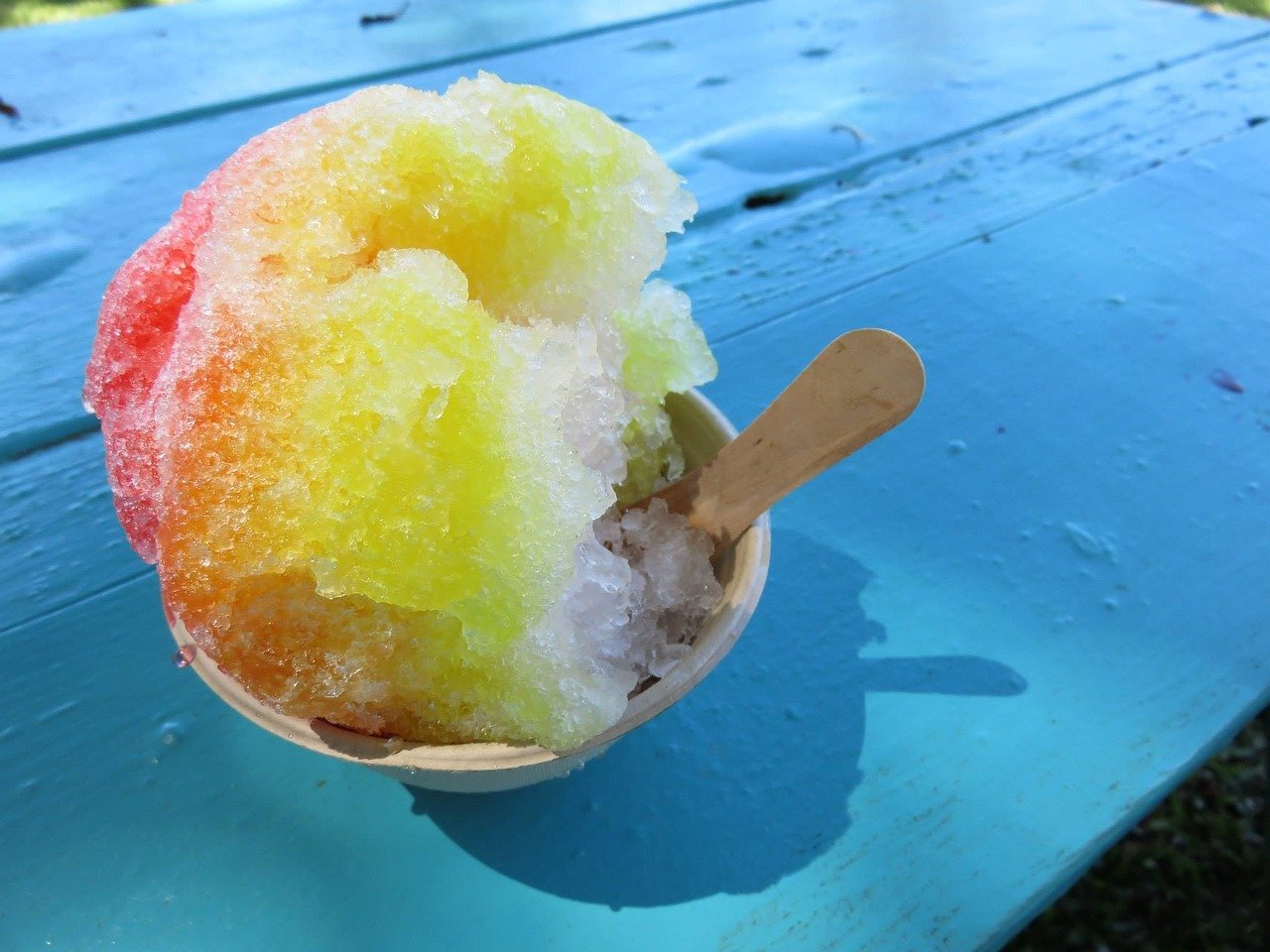 Oahu Travel Guide to Shopping
Of all the Hawaiian Islands, Oahu by far offers the widest variety of shopping options. Whether you want to pick up some new beachwear for your day along the oceanfront or you simply want to fulfill that shopping urge, the shopping venues on Oahu more than meet expectations. In fact, Oahu is home to the largest outdoor shopping mall in the world – Ala Moana Center. With beautiful landscaping and swaying palms throughout, you can continue to enjoy the island vibe as you shop at Ala Moana. This mall boasts over 300 stores, with everything from well-known brands to local boutiques, as well as a hearty share of onsite restaurants to keep fueled along the way.
To bargain hunt top brands, consider heading to Waikele Premium Outlets, or find local items at great deals at the Aloha Stadium Swap Meet. Waikiki Beach Walk offers a pleasant vibe with a good mix of known brands, local boutiques, and specialty shops. The Waikiki Christmas Store located on the Beach Walk is a must-see if your winter getaway to Hawaii coincides with the holiday season! And if you're staying on the west coast, browse the Shops at Ko Olina for resort wear, beach wear, and gift items.
Click Here to Book Our Winter Hawaiian Princess Rentals!
Contact Us
At Ola Properties, we specialize in offering top-notch Oahu vacation rentals, particularly along the island's desirable sunny west coast. Contact us today to learn more about where to stay, what to do, and how to save more on your winter getaway to Oahu!